Ever wanted to learn how to bake but thought it was too difficult?
Then this article is for you!
With a little time and effort, you'll quickly discover it's simpler than you think. 
Our mission at New Gen Baker is to make baking accessible to everyone, which is why we've put together this nifty guide for beginners.
You'll find everything you need for your baking journey, including easy recipes to try. The most important thing is to read up on the basics and follow it up with practice. We promise that the more you keep at it, the better you'll be at baking!
Here's a quick breakdown of what you'll learn from this article:
So what does it take to be a master baker? Whether you're a newbie or an expert, these are five skills you need to learn:
Essential Baking Ingredients
There are tons of ingredients used for baking, but let's start with the basics and why they're important.
Kitchen Tools Every Baker Can't Live Without
Next up are the tools of the trade. Forget the high-end stuff first and look for the basics. You don't need to break the bank, but remember to invest in quality equipment.
Baking has a lot to do with chemistry. When you combine ingredients in specific amounts, they react in such a way to produce a necessary characteristic of the baked good. Here are two examples:
Ever wonder what causes browning on bread crust, or, the bottom of your cookies and biscuits? Here's why: mixing flour with water to make dough forms gluten—a protein that contains amino acids. Baking dough at a high temperature causes amino acids to combine with the reduced sugars. This results in the browning of your baked goods. In scientific terms, it's called The Maillard Reaction.
The key to baking good bread is yeast. Without it, your dough will remain flat, and trust us, that's not what you want.
When yeast is combined with flour and water, they create simple sugars, which then produce carbon dioxide and ethanol in air bubbles. This makes your dough rise through fermentation. It's also the secret to producing flavorful bread like sourdough.
Baking uses a lot of math, too. We're not talking long division, but baking does call for precision. Measuring out ingredients according to the recipe is crucial to the outcome. That's why there's a whole range of measuring tools and equipment used in baking. Think spoons, cups, scales, and thermometers.
In fact, putting too much or too little of an ingredient can alter the taste and texture of what you're baking. And, not in a good way.
This formula is popular among professional bakers who need to formulate their recipes, whether it's for bread, doughnuts, cakes, cookies, buns, you name it! It's also something that newbie bakers should explore, especially if decide to make it your profession.
The advantage of this method is it lets you be more flexible without compromising the consistency of your baked goods. Even if you change the measurement of one ingredient, the formula allows you to take the guesswork out of ingredient ratios:
Baker's Percentage ingredient = 100% x Weight ingredient / Weight flour
If you want to learn more about this, read our previous post on The Science of Baking.
Recipes sometimes use ounces or grams instead of cups. Depending on where you are in the world, something as simple as converting one cup to grams can confuse even the best bakers. Maybe these aren't units of measurement you're used to.
Here's a conversion chart with some basic examples to help you out. It uses US cups as the basis of measurement, and assumes that most ingredients are spooned into a cup (flattened and not heaping):
Ingredient
US Cups
Grams
Ounces
Butter 
1
227
8.01
1/2
113.5
4
1/3
75.67
2.67
¼
56.75
2
Tablespoon
14.9
0.5
Teaspoon
4.73
0.17
All-purpose Flour 
1
125
4.41
½
62.5
2.2
1/3
41.67
1.47
¼
31.25
1.1
Tablespoon
7.81
0.28
Teaspoon
2.6
0.9
Cake Flour
1
114
4.02
½
57
2.01
1/3
38
1.34
¼
28.5
1.01
Tablespoon
7.13
0.25
Teaspoon
2.38
0.08
Cornstarch
1
125
4.41
½
62.5
2.2
1/3
41.67
1.47
¼
31.25
1.1
Tablespoon
7.81
0.28
Teaspoon
2.6
0.09
Granulated (White) Sugar 
1
201
7.09
½
100.5
3.55
1/3
67
2.36
¼
50.25
1.77
Tablespoon
12.56
0.44
Teaspoon
4.19
0.15
Brown Sugar (Packed)
1
195
6.88
½
97.5
3.44
1/3
65
2.29
¼
48.75
1.72
Tablespoon
12.19
0.43
Teaspoon
4.06
0.14
Milk
1
245
8.64
½
122.5
4.32
1/3
81.67
2.88
¼
61.25
2.16
Tablespoon
15.31
0.54
Teaspoon
5.1
0.18
Cocoa Powder 
1
125
4.41
½
62.5
2.2
1/3
41.67
1.47
¼
31.25
1.1
Tablespoon
7.81
0.28
Teaspoon
2.6
0.9
Source: The Calculator Site
Now that we've covered the basics, it's time to get baking! As promised, here are some simple sweet and savory recipes to try. You can even try baking as a family for a fun learning experience. 
You'll love these bite-sized Strawberry and Apple Galette Tarts, topped with strawberry jam and apple slices.
Who needs to clean up a mess of multicolored bits of paper when you can have edible ones on a Confetti Party Cake?
No hairy cuties were harmed in the making of these Chunky Monkey Breakfast Cookies. Think trail mix plus chocolate chips in this filling and yummy cookie recipe. 
Arf! These Dog Bone Breadsticks are too cute to eat. Well, not quite because you'll be missing out on their parmesan cheese goodness. Serve them with marinara sauce for dunking.
These Mexican Breakfast Muffins will have you saying Ole! all day! Sink your teeth into an egg muffin filled with beef and salsa filling.
Last but not least, we're leaving you with a list of articles you can use as resources for your baking adventure: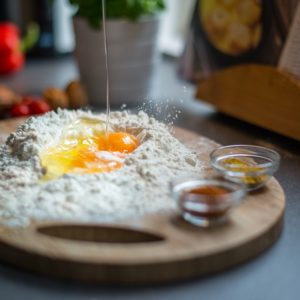 No matter how great you are at baking, you'll still face the challenge of lacking one or more ingredients from time to time. Although it's
These are just a few of our many resource articles. Explore our website to discover and learn more about the art of baking. If this Baking for Beginners guide helped you, make sure to share it with your friends and family!

Finally, if you want to level up your baking skills, we recommend taking a class or two at the Maya Kitchen Culinary Center.