Whatever your kids' age, baking with them creates bonding moments for their social and emotional development. There's a huge pay off and sense of fulfillment in creating something that the whole family can enjoy.
Kids can help in the kitchen and learn culinary skills as early as three years old. Not surprisingly, our impression of the kitchen tends to be that it's a hotbed for disaster: knives, heavy pots and pans, open flames, and hot surfaces. However, there's a fair share of safe jobs for kids, like pouring, mixing, and of course, washing up.
Lots of kids welcome the opportunity to get their hands dirty by crushing, squishing, mashing, and kneading. Young children are drawn to jingly measuring spoons and pressing buttons.
In short, you can create a safe and controlled environment where kids can have some parent-sanctioned food play. For instance, you can invest in child-friendly knives that they can use to cut soft fruits, butter, or cheese.
Now, if you want to bake something, you'll probably have to break some eggs. Remember, this is a learning experience and an ongoing process. You won't always get it right the first time, so make sure they know that that is a perfectly acceptable outcome. It's important to give them the motivation to try to improve the next time around.
How to Get Started
Invite your kids to enroll in a class at home by making your own syllabus for your child. It can be as simple as including recipes that increase in difficulty as your child progresses, adding information accordingly that may be beneficial for them in the future.
For kids age 8 and above, you might want to have your child make a recipe three times: once with you teaching, once with you there to help as needed, and once all their own. When they can make all the recipes with minimal supervision, they graduate!
Reward them by hosting a party with friends where they can showcase their new skills.
It's important to start with a plan. Choose the recipe in advance, one that's appropriate for your kid's age. You can give your children options and have them decide, which helps maintain their enthusiasm for the project. You also make them accountable for their decisions.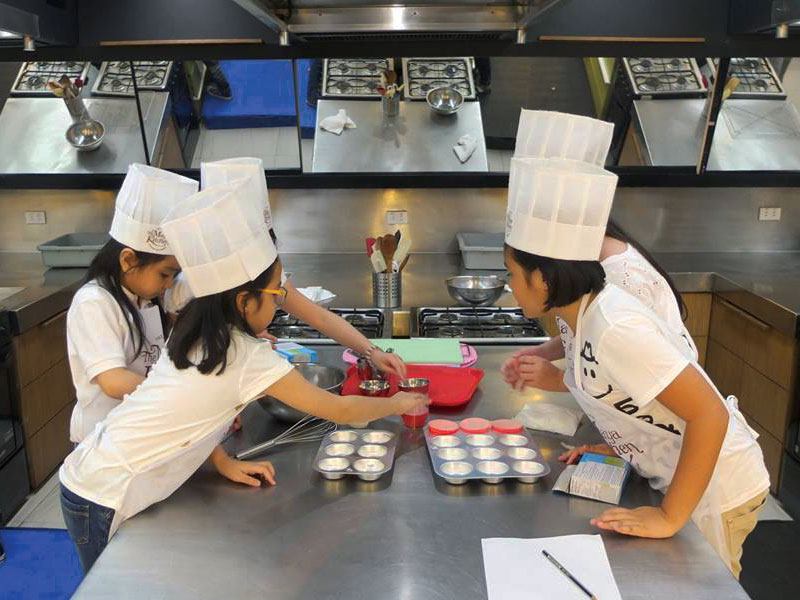 We've put together a simple program that can get you and your family started on fostering a love for baking.
For younger kids, give yourself twice as much time as the recipe allows. Work at a table rather than the counter if the height is more comfortable and less challenging. The kitchen can be intimidating, not just for kids. This way, it becomes more of an activity rather than a chore.
Give your kids time to explore the raw ingredients, give them a bit of background on what they're using and what it's used for, such as flour, yeast, and baking powder. As a bonus, you could learn a few things yourself!
If more than one child is involved, delegate age appropriate tasks and determine what they can do for each step of the process if possible.
Avoid tears and arguments by planning ahead and having a backup. If for any reason they lose interest, make sure there's an easy activity they can engage in. When you're done, assess their performance and figure out how they can do it better next time. And make sure there is a next time!
Check out the links below for some age-appropriate recipes. The age groups also correspond to skill level, meaning under 3s for beginners, and 13 and up for something more advanced. Determine where your child fits in and get baking!
Related Articles:
LITTLE HELPERS: GETTING YOUR TODDLERS INVOLVED IN THE KITCHEN
RECIPES YOU CAN TRY WITH YOUR 3-5 YEAR OLDS
RECIPES YOU CAN TRY WITH YOUR 6-8 YEAR OLDS
RECIPES YOU CAN TRY WITH YOUR 9-12 YEAR OLDS