That first slice of fruitcake of the year is a sure indication that it is indeed the season to be jolly. You may agree that there's nothing quite as decadent as a well-made fruit cake glistening with candied fruit and nuts, and infused with generous helpings of brandy.
Gifting (and eating) fruitcake during the holidays is a time-honored Filipino tradition, which is surprising considering it is Roman in origin. The very first recipe comprised "pomegranate seeds, pine nuts, and raisins that were mixed into barley mash." Although that may not sound too appetizing these days, many variations have sprung up over time, making the fruitcake one of the oldest and most popular desserts.
And because Christmas time is synonymous with sugar, spice, and everything nice, cultures from all over the world have come up with their own take on this yuletide treat.
In France, they have a cake that is served on the Epiphany, or the twelfth day of Christmas. It's called the Galette de Rois and is flaky in consistency with delicious almond filling. In the early days, a bean would be baked inside, and whoever found the bean would be crowned king or queen for a day. Nowadays, they bake a trinket like a tiny figurine inside. It's a lovely custom to commemorate when the three Wise Kings visited the baby Jesus.
Also served during the Epiphany is Portugal's Bolo Rei. This delicious cake is round with a hole in the center to represent a crown; it's jewels made from candied fruit. A bean is also baked into it and whoever finds it is responsible for next year's Bolo Rei.
In Germany, the Christstollen (also called Weihnachtsstollen) takes center stage. This cake has made its mark in history as being baked and served for the first time during the one of the most important ecumenical councils in history: the Council of Trent in 1545. The cake consists of almonds, butter, dried fruit, and spices then blanketed in a layer of sugared icing.
Finally, let's take a look at our version of the fruitcake, which is very much like a small, jeweled box. This Christmas dessert loaf is typically steeped in liquor like brandy or rum. It's loaded with nuts, glazed fruit, and cinnamon—all the flavors of Christmas!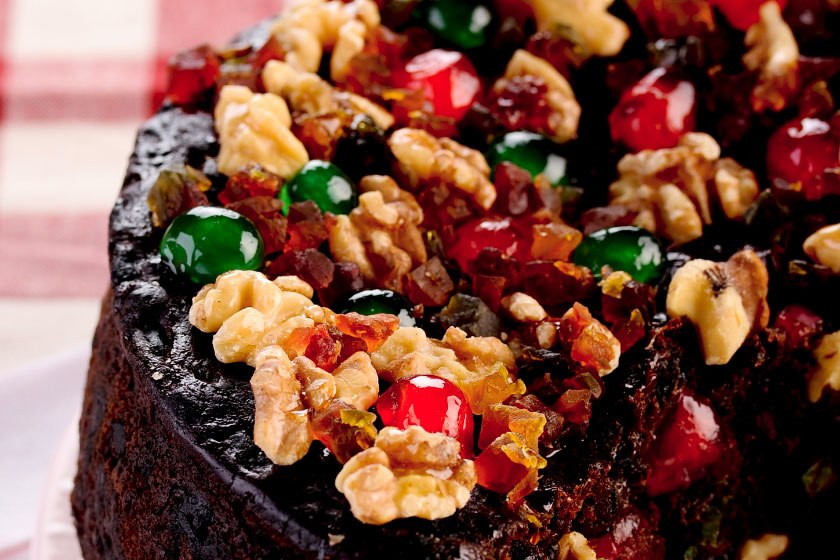 The best part is that fruitcake can be enjoyed a long time after it's made, as the alcohol preserves it. Usually, fruitcake is allowed to "age" for a little over a month and its shelf life can be extended by drenching it in rum and then stored again. What a delicious and heady Christmas treat!
As we end this article with our very own recipe, we fervently wish you try making your own fruitcake this year. We promise it will be the star of your Christmas table and bring all the flavors of the season!